JOHNNY MERCER
(1909 - 1976)
(born November 18, 1909, Savannah, Georgia;
died June 25, 1976, Bel-Air, California)
Any list of America's ten greatest songwriters would include the name of Johnny Mercer of Savannah, Georgia.

Most authorities rank him as the greatest lyricist the nation has produced. A recitation of the song titles of his hits beginning with "Lazybones" with Hoagy Carmichael in 1933 and running through "Good Companions" with Andre Previn in 1974, constitutes by itself a graphic history spanning the four momentous decades from the Great Depression to the Space Age.

Born to wealth on November 18, 1909, John Herndon Mercer attended a fashionable Virginia prep school and was forced to drop out of college by the bankruptcy of his father's real estate business precipitated by the economic crash of the late 20s.
He vowed to himself at the time that he one day would pay off his father's debts, a promise on which he was able to make good in the early 50s when he sold his interest in Capitol Records, which he founded in the early 40s, and sent a Savannah bank his personal check for $300,000 to reimburse all the creditors or their heirs with interest.

He got his first big break in 1932 when he won the Pontiac Youth of America Contest to appear on Paul Whiteman's Kraft radio program. Whiteman liked him so much he that he kept him on for a year to write, emcee, and sing with his orchestra.

Mercer's major triumphs were scored in the field of movies. radio, and recording. He wrote the hit, "I'm an Old Cowhand" for the movie in which he starred with Buddy Rogers in 1935, which led to a contract with Warner Brothers, and a stint in Hollywood with such greats as Ritchard Whiting, Harry Warren, Ziggy Elman, Jerome Kern and Gordon Jenkins.

With Harold Arlen and Hoagy Carmichael he produced an unequaled succession of Oscar winning songs and other hits including "Hooray for Hollywood" and "Moon River."
Zell Miller - They Heard Georgia Singing
---
Johnny Mercer - The Bard from Savannah
Exhibit at Georgia State University
A permanent Johnny Mercer exhibit is located on the second floor of The University Library South on the Georgia State University campus.

The exhibit is open to the public during regular library hours; it is closed on university holidays and operates on reduced hours during university semester breaks. Admission is free.
-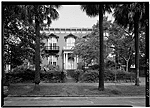 Mercer House
Savannah, Georgia
---
From Dusk to Dawn
A Depression Era Guide To New Orleans


1900s
1910s
1920s
1930s
1940s
1950s
1960s
1970s
1980s
1990
SOUTHERN MUSIC
---