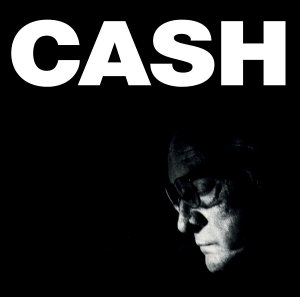 Farewell to a Legend, September 18, 2003

As I sit here listening to this CD, I find it hard not to shed a few tears. In light of Mr. Cash's recent passing, most of the songs on this album resonate with meaning, particularly "We'll Meet Again", "The Man Comes Around" and "Danny Boy", as well as his version of "Hurt". That song has, in my opinion, eclipsed the original. The video is one of the most stunning pieces of film I have ever witnessed. It is hauntingly beautiful, and made more poignant after June Carter Cash's death in May; as she watched over him from the staircase, it was as if she was looking down on him from Heaven. Now it seems they are together, making sweet beautiful music.

His covers of "popular" artists only prove that Johnny Cash crosses all genres of music, and his legacy as one of the greatest musical artists of all time will live on forever. I urge you to pick up this CD as well as his earlier works. You will not be disappointed!

RIP Johnny Cash.
Reviewer: Amethyst Silvermoon from Lebanon, TN United States
Johnny Cash
February 26, 1932 - September 12, 2003
Nashville, Tenn. - September 12, 2003 - Country music legend Johnny Cash died at Baptist Hospital at 2:00 A.M., CDT.

"Johnny died due to complications from diabetes, which resulted in respiratory failure," said Cash's manager, Lou Robin. "I hope that friends and fans of Johnny will pray for the Cash family to find comfort during this very difficult time."

Johnny Cash was born in Kingsland, Arkansas, on February 26, 1932. He grew up listening to hillbilly music on the radio. He joined the Air Force on July 7, 1950, and while stationed in Germany, formed a group with his fellow southerns called the Landsberg Barbarians. He began writing music for the group and his song, "Hey! Porter." was published as a poem in the sevicemen's magazine Stars & Stripes.

Johnny Cash left the Air Force on July 3, 1954. He married Vivian Liberto in August and the couple settled in Memphis. He began recording with Sam Phillips at Sun Studio and "Cry! Cry! Cry!," backed with "Hey! Porter," was released on Sun Records, June 21, 1955. He soon hit the road with Carl Perkins and Elvis Presley.


Sam Phillips and Johnny Cash

"I don't feel like anyone discovered me
because I had to fight to get heard"
He performed on the Louisiana Hayride in December of 1955 and was offered a regular spot in January. Sam Phillips released "I Walk the Line" on May 1, 1965 and the song reached #2 on the country charts and #19 on the pop charts. By July 7, he was offered a spot on the Grand Ole Opry. His last recording session at Sun was on July 17, 1958.

He moved to California in 1958 and signed with Columbia Records where he recorded a string of hits including the No. 1 hit "Ring of Fire" written by June Carter (the daughter of Mother Maybelle Carter of the legendary Carter Family). Johnny Cash married June Carter in 1968 and had hit duets with "Jackson" and "If I Were A Carpenter." ABC-TV's "The Johnny Cash Show"debuted in 1969 and Bob Dylan performed on the first episode. By the late '60s and '70s, he was both a mainstream and counterculture figure.

In 1994, he recorded with producer Rick Rubin to create "American Recordings," The critically acclaimed "American Recordings" made its way onto college and alternative radio play lists and earned a Grammy for Best Contemporary Folk Album in 1995. "Unchained" (1996) featured backup band Tom Petty and the Heartbreakers and won a Grammy for Best Country Album in 1998. Rubin's label placed and Ad in Billboard that featured a 1970s photo of Cash with his middle finger extended and a caption that read: "American Recordings and Johnny Cash would like to acknowledge the Nashville music establishment and country radio for your support."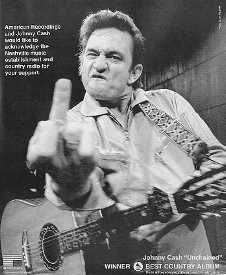 "It's my music. It's not done to try and
sound like someone else in Nashville"
In February 2000, Cash was honored with a Grammy Lifetime Achievement Award and a proclamation for "prolific work" that "transcends both generations and genres." He recorded more than 1,500 songs, on more than 500 albums.
"Johnny Cash's voice is the perfect voice for a man of his spirit. It's unmistakable.
It doesn't sound like anybody else. And it sounds like the real thing, which is what he is."
~Kris Kristofferson
Learn more about The Man : The Sound : The Legend
@ Johnny Cash.Com
June Carter Cash, Dies At Age 73
Nashville, Tenn. - (May 15, 2003) - "Entertainer and beloved wife of Johnny Cash, passed away at 5:04 p.m. (Central time) on May 15, 2003 at Baptist Hospital in Nashville, Tennessee following complications from heart surgery she underwent on Wednesday, May 7th," according to Lou Robin, Manager of June and Johnny Cash. June was 73 years old.

June and Johnny have seven children; Rosanne, Kathy, Cindy, Tara, John Carter, Rosie and Carlene.



---
SOUTHERN MUSIC
In The 20th Century
1900s / 1910s / 1920s / 1930s / 1940s
1950s / 1960s / 1970s / 1980s / 1990s
---
www.southernmusic.net
---
Historic America
Alabama l Alaska l Arizona l Arkansas l California l Colorado l Connecticut l Delaware l Florida
Georgia l Hawaii l Idaho l Illinois l Indiana l Iowa l Kansas l Kentucky l Louisiana l Maine
Maryland l Massachusetts l Michigan l Minnesota l Mississippi l Missouri l Montana
Nebraska l Nevada l New Hampshire l New Jersey l New Mexico l New York
North Carolina l North Dakota l Ohio l Oklahoma l Oregon l Pennsylvania
Rhode Island l South Carolina l South Dakota l Tennessee l Texas
Utah l Vermont l Virginia l Washington l West Virginia
Wisconsin l Wyoming l Washington D.C. l Home
---