DIZZY GILLESPIE
(1917 - 1993)
(born October 21, 1917, Cheraw, South Carolina;
died January 6, 1993, Englewood, New Jersey)
John Birks "Dizzy" Gillespie was the man who first made Bebop a vogue. Born in Cheraw, South Carolina, in 1917, he began studying the trombone when he was fourteen, and trumpet a year later.

For a number of years he was a free-lance trumpet player with various jazz outfits until 1939, when he joined Cab Calloway orchestra and became one of its shining lights.

With the Earl Hines band, which he joined in 1943, he began developing some of those musical characteristics that were soon to identify Bebop.

Gillespie's devotees affected his eccentric dress -- beret, heavy "spectacals," beard.

Dizzy formed a new jazz group that was heard at the Three Deuces on 52nd St. Some of Dizzy's disciples and colleagues who preached his gospel of Bebop were, Thelonious Monk, Earl "Bud" Powell, Charlie Parker and Miles Davis.

David Ewen -- All the Years of American Popular Music

As was Dizzy's wish while he was alive, the Medical Center established The Dizzy Gillespie Cancer Institute and Memorial Fund. The Fund supports the ongoing development of the Cancer Institute and provides free medical assistance to jazz musicians in need.
Groovin' High: The Life of Dizzy Gillespie
From the Publisher
Dizzy Gillespie was one of the most important and best-loved musicians in jazz history. In this first full biography, Alyn Shipton covers all aspects of Dizzy's remarkable life and career, taking us through his days as a flashy trumpet player in the swing bands of the 1930s, his innovative bebop work in the 1940s, the worldwide fame and adoration he earned through his big band tours in the 1950s, and the many recordings and performances which defined a career that extended into the early 1990s. Along the way, Shipton convincingly argues that Gillespie - rather than Charlie Parker as is widely believed - had the greatest role in creating bebop, playing in key jazz groups, teaching the music to others, and helping to develop the first original bebop repertory.
Buy This Book

1900s / 1910s / 1920s / 1930s / 1940s
1950s / 1960s / 1970s / 1980s / 1990s
-


WELCOME TO
THE HOUSE OF KARDS
Follow the adventures of 52 lovable characters from the Heart, Club, Spade and Diamond Families as they play the hand of fate. CLICK HERE
---
State Guide
---
DIXIE
---
The melody to "Happy Birthday"
was composed by a school teacher
in Louisville, Kentucky.
CLICK HERE
---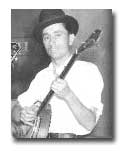 MY MUSICAL LIFE
By Carl P. McConnell

Mabel McConnell talks about the Carter Family, Doc & Carl,
The Original Virginia Boys and the early days of radio.
---